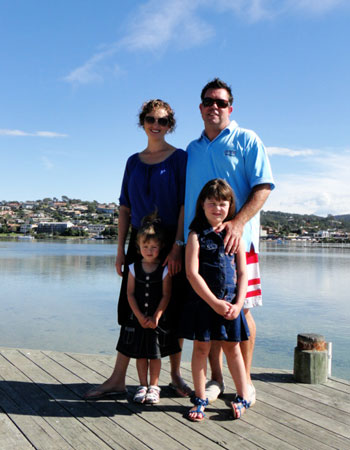 Welcome to the Lakeside Blog! It's Gab here reporting live from Fishpen! Since you can't be with us right now I thought you might like to read-a-long so you don't miss out on all the happenings here in gorgeous Merimbula.
The Strouds love their holidays and we know you guys do too. We sometimes even feel a bit holiday homesick you know that feeling where you just really miss your long latte at your fave holiday coffee shop, or the special bread they have at that quaint little bakery or the delicious smell of the sea breeze?


So the blog is here to satisfy your cravings for a little piece of Merimbula. I'll be regularly posting little titbits of Merimbula for you to devour as well as some "Life At Lakeside" stories, to keep you in touch with us, your Lakeside family.

As you all know Matt's a tireless worker so on Fathers' Day, the girls and I decided to spoil him with a day out.

We started with breakfast at Sprout Eden. Sprout's one of those, everything can be good in the world kind of places; when you walk in your senses are immediately tempted with colourful local produce, the smell of fresh coffee and the sound of a warm welcome. Matthew enjoyed the eggs benedict, I had scones while Liv and Soph shared bacon and pancakes. We left with our bellies full and arms loaded with fresh daffodils, locally grown apples and a bunch of herbs.

Then it was onto Cocora Beach, this is found by turning left onto Ida Rodd Drive just as you start heading out of Eden toward Melbourne. Cocora Beach is part of Cattle Bay and has a beautiful view of Eden harbour. The waves are teeny tiny, there are rocks to climb and rock pools to explore. Sophie found an enormous broom-like piece of seaweed that she dragged along the beach and desperately wanted to bring home for the dogs to chew. There's an excellent playground at Cocora as well as BBQ facilities and toilets so it makes for the perfect picnic spot for families.
Once we'd wrangled the seaweed from Sophie it was off to Ben Boyd Tower. Again, you take the highway south, turning left onto Edrom Road and following signs to Boyd Tower. The tower is made from sandstone and the colours and shades marbling through each enormous brick are beautiful. Originally designed as a lighthouse in 1847 by entrepreneur Benjamin Boyd, the tower was taken over by the Davidson family who used it as a place to watch for the whales they were hunting.


There's a stirring sense of atmosphere at the tower and you can imagine the whalers braving the open seas in rowboats to do battle with the giants of the deep. Fortunately now that's just our local history and the tower is part of the National Park. The lookouts nearby provide a great places to stand and watch the whales as they lumber by. We were lucky enough to see several whales; we glimpsed spouts, a tail slap and some gentle breaching by mother and baby.


Just down the road, Olivia and Matt took a quick look at the whaling station. Poor old Sophie was exhausted so I had a rest with her in the car. The whaling station is located on the Kiah inlet and is another beautiful place to watch for whales, remember our local history and let time slip by.


Back in the car and it was off to Eden Wharf. It wasn't really lunch and it wasn't really dinner so it was time for fish and chips! We sat in the bright September sunshine and studied the tugs moored in the harbour. Olivia, ever the academic, managed to make her name using chips and calamari! Of course Sophie smelt ice cream and the whole afternoon ended with a messy bubblegum flavoured pool of melted, sticky happiness.
So, that was our Fathers Day. How was yours?